The impact of
NEEDLES
on pediatric compliance to medications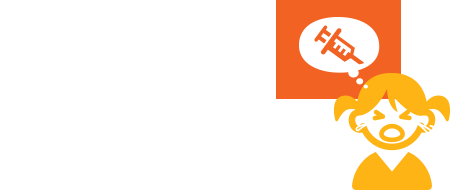 A study of more than 1,000 children and 800 parents found a whopping 63% OF KIDS and nearly 24% of parents FEARED NEEDLES.1

Untreated
NEEDLE PAIN CAN PROGRESS TO A PHOBIA
, which develops in about 10% of the population.
2

While many strategies are available to reduce shot-related pain, they are not commonly used in practice. This leads to UNNECESSARY PAIN AND SUFFERING FOR KIDS.3

Parents are actually willing to PAY $25 TO $50 TO REDUCE THE NUMBER OF SHOTS their kids have to get!2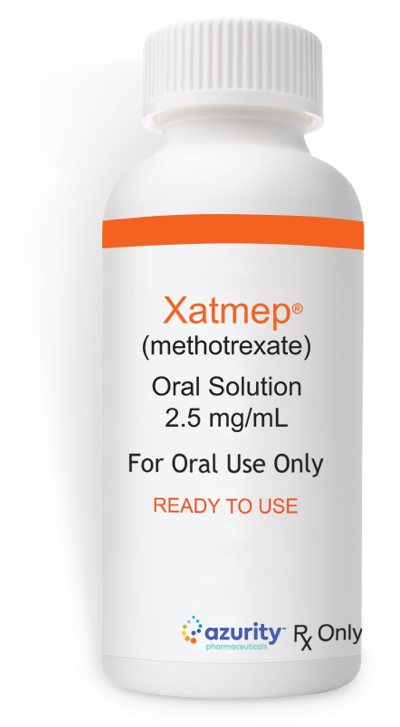 The First and Only FDA-Approved, Ready-to-use Methotrexate Oral Solution.
For acute lymphoblastic leukemia (ALL) and polyarticular juvenile idiopathic arthritis (pJIA) in pediatric patients
Sweet Taste
No artificial flavor or dyes.
Accurate Dosing
Based on body surface area.

Easy. Simple. Convenient.
Ready-to-use oral solution—requires no time to prepare, no compounding, no crushing or splitting tablets, and no injections.
ADDITIONAL IMPORTANT SAFETY INFORMATION
The recommended Xatmep dose is to be taken once weekly. Daily use has resulted in fatal toxicity.
Xatmep Oral Solution should not be used if hypersensitive or allergic to methotrexate or any of the ingredients in Xatmep.
Xatmep Oral Solution should not be used during pregnancy in patients with pJIA.
Take Xatmep exactly as your doctor tells you.
An accurate dosing device should always be used. Ask your pharmacist for an accurate dosing device. A household teaspoon is not an accurate dosing device.
Ask your doctor about the risks to the fetus if you or your partner is taking Xatmep for the treatment of ALL.
Pregnancy should be avoided if either partner is taking Xatmep. Contraception should be used by both females and males while either is taking Xatmep and for 6 months after the last dose taken by females and 3 months after the last dose taken by males.
Xatmep Oral Solution should not be used when nursing.
Methotrexate may affect the ability to have children. Methotrexate may affect menstrual cycles and sperm count.
Discuss vaccinations and immunizations with your doctor prior to receiving them, as they may not be as effective, or should be avoided during methotrexate therapy.
Xatmep may cause severe side effects, including organ toxicity. Organ toxicity may include: bone marrow, kidneys, gastrointestinal, liver, lung, skin, soft tissue and bone. Secondary malignancies may occur. Your doctor will monitor you for signs and symptoms of toxicity during treatment.
Other side effects of methotrexate include:
mouth sores
diarrhea
Nausea
vomiting
abdominal distress
fatigue
chills
fever
dizziness
decreased resistance to infection
leukopenia (decrease in white blood cells)
malaise
These are not all the possible side effects of Xatmep. Your doctor or your patient's doctor is the best source of advice about side effects.
Call your doctor immediately if you or your patient has any side effects that concern you or do not go away.
Tell your doctor about any other medications, including prescription and over-the-counter medications, supplements, vitamins, or herbal remedies you are taking. Make sure to visit your doctor regularly.
Ask your doctor about proper storage and disposal of dispensing bottles and dosing devices. Keep this and all medications out of reach of children.
This Important Safety Information does not include all the information needed to use XATMEP safely and effectively. Visit XATMEP.com for Full Prescribing Information.
To report SUSPECTED ADVERSE REACTIONS, contact Azurity Pharmaceuticals, Inc. at 1-855-379-0383, or FDA at 1-800-FDA-1088 or www.fda.gov/MedWatch.
---
References: 1. Taddio A, Ipp M, Thivakaran S, et al. Survey of the prevalence of immunization non-compliance due to needle fears in children and adults. Vaccine. 2012;30(32):4807–12. 2. Taddio A, Chambers CT, Halperin SA, et al. Inadequate pain management during routine childhood immunizations: the nerve of it. Clin Ther. 2009;31(2):S152–67. 3. McMurtry CM, Pillai Riddell R, Taddio A, et al. Far From "Just a Poke": Common Painful Needle Procedures and the Development of Needle Fear. Clin J Pain. 2015;31(10):S3–11.